Search found 82 matches
by Thornside

15 May 2017
Forum: Gold Coins
Replies: 2
Views: 225
That's a good question. Generally speaking, I wouldn't suggest it, but a few reasons are in some countries you can use your gold as collateral and get low-interest loans for 1 to 3% in dollars euros ect. Then you can take the money and get 50 to 10 percent in interest or dividends. Or you can take t...
by Thornside

15 May 2017
Forum: Silver Coins
Replies: 2
Views: 238
I think the problem with both silver and gold these days, is all the news about counterfeiting makes many people skeptical about using or buying them. Because most people cannot tell the difference between real and counterfeit of either coin or bar. So I think the coins would be better for exchange...
by Thornside

30 April 2017
Forum: Gold Council
Replies: 1
Views: 126
Why invest within precious metals? Negative interest rates are a crazy creation of Central Banks. Right now, the European and Japanese Central banks have negative interest rates. That simply means the Central bank and potentially private banks will charge negative interest, meaning instead of receiv...
by Thornside

30 April 2017
Forum: Metal Detecting
Replies: 2
Views: 152
Awesome. For over 600 years the Anglo-Saxons were settled in Britain replacing many of the Roman stone buildings with new buildings of their own. At the same time they brought Christianity to the country. The reign of the Anglo-Saxons came to an end in 1066 but they will be remembered not only for t...
by Thornside

17 April 2017
Forum: Opinion Polls
Replies: 4
Views: 288
low budget collectors buy raw coins. their values are too low to submit. Learn how to spot problem coins before purchase. Cheap coins are cheap for a reason(s). attractive problem free raw coins are a distinct minority. Buyer beware by being educated. Really like PCGS, grading is real fast and pri...
by Thornside

17 April 2017
Forum: Metal Detecting
Replies: 0
Views: 93
Hi, one question to all you guys. How much time you spent searching, and how much you gain? is it worth it or just for the trill?
by Thornside

17 April 2017
Forum: Cryptocurrency
Replies: 1
Views: 179
I was thinking that direct banking across interplanetary distances shouldn't be possible and that funds held in a financial institution should stay on one planet and moved only by some other protocol much like how the internet cannot handle interplanetary lag with its current protocols. Banks on Mar...
by Thornside

17 April 2017
Forum: Silver Coins
Replies: 2
Views: 253
Since I've been absent for quite some time, I figured I'd return with a heavy hitting topic. Believe it or not, most big silver companies put their own interests ahead of yours. Now, that seems fair. I mean, as a business, they need to profit, not give charity. However, what I don't agree with is t...
by Thornside

04 March 2017
Forum: Markets, Economy
Replies: 1
Views: 160
by Thornside

15 February 2017
Forum: Cryptocurrency
Topic: What is Bitcoin?
Replies: 1
Views: 216
The main reason not everyone mines or uses Bitcoin is because people are afraid to start using it or people think it's stupid cause who actually accepts it. If we all accepted the idea of Bitcoin then it will be easier to integrate. Not only that but a lot of people will get rich off Bitcoin cause o...
---
GOLD & SILVER PRICES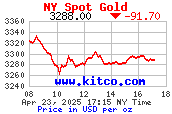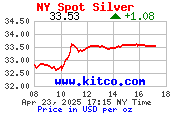 Share & Follow Gold Silver Council
Follow Gold Silver Council