Search found 79 matches
by Freddy

22 May 2017
Forum: Cryptocurrency
Replies: 0
Views: 35
Bitcoin are good but I want to see it become fast enough, both 'payment and clearing' first, otherwise it 'can't become a 'mainstream currency'. Other worries are it's mining costs, will they be passed onto us directly or indirectly and the real implication of halving the block and or increasing the...
by Freddy

22 May 2017
Forum: Gold Coins
Replies: 4
Views: 338
I store my stuff variously, but I'm not as concerned with keeping it nice & neat like a lot of people. I'm buying the metal for the metal, so whether everything looks pretty isn't so much what I focus on. What I don't do is put it into a banks hands. You can store it with trusted loved ones, whi...
by Freddy

22 May 2017
Forum: Coin Gallery
Replies: 0
Views: 34
Real proud of this one :D This is a great coin and the engraving is clear & precise. I do love the particular type of dragon used, specially with the privy seal on it. I think I have about 4 of these and all are beautiful. Did I say I collect dragons also. Love this year coin with the dragon!!!!...
by Freddy

16 April 2017
Forum: Gold Coins
Topic: How To Spot Fake Coins?
Replies: 3
Views: 285
OK guys, the thickness is to compensate for the water testing of gold, one who puts a piece of gold in a cup with this weight and it displaces the water a certain level, then places the coin in the water, it will take up the same space in the water, the oldest trick in the book. It is truly fake. gu...
by Freddy

16 April 2017
Forum: Gold Council
Replies: 3
Views: 311
When I lived in the US pawn shops pay between 80% and 95% spot metal prices for gold. I think you are confusing the fact that gold of different finenesses will go for different prices. If you are selling one gram of gold and it is 22 karats it will sell for less than if it is 24k. Most gold found in...
by Freddy

22 March 2017
Forum: Gold Council
Topic: Elements: Gold
Replies: 3
Views: 233
Fiat currency was created to steal gold and silver from the public. Don't go by the value of gold. Even if gold was worth $5000 an ounce it means nothing because fiat currency is a promissory note....the dollar value of gold is fake. What they don't want you to know is simple...JP Morgan said it bes...
by Freddy

22 March 2017
Forum: Opinion Polls
Replies: 5
Views: 615
I too am a saver. Which is why silver and I have a bond. When I buy silver I don't buy thinking about selling it regardless of spot. My reason to stack it is when its the year 2040 and I can retire and the fiat in my bank has limited purchasing power and retirement savings is taxed beyond belief. Si...
by Freddy

22 March 2017
Forum: Metal Detecting
Topic: My old coin find 2004
Replies: 3
Views: 300
Started metal detecting in january 2014 one hundred and elevan silver two gold rings and gold braclet confederate infantry button oldest coin 1787 george lll augusta ga machine whites prizm 5g hooked for life
by Freddy

22 March 2017
Forum: Gold Coins
Replies: 3
Views: 249
I must admit I have always been into Silver (got just under 400 ounces).I never looked at Gold due to the price. I figured I could get way more Silver for my money. HOWEVER - Since Xmas I have had a real hankering for some gold, don't know why I just have!. So I have taken the plunge and have bought...
by Freddy

04 March 2017
Forum: Gold Coins
Replies: 2
Views: 222
I started off with 1/10oz coins and what I did was look at previous years coin prices for the same coin and found that Pandas and Libertads have the best resale value so to say. So in terms of speculating what might sell the best I arrived at these two coins at this particular weight. With decent li...
---
GOLD & SILVER PRICES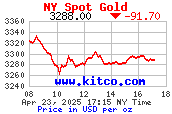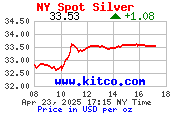 Share & Follow Gold Silver Council
Follow Gold Silver Council