Search found 82 matches
by Bounty

12 March 2017
Forum: Cryptocurrency
Replies: 2
Views: 278
Bitcoin is difficult to predict being still in its infancy .But personally I will be buying down to around $780 ,it could go a lot lower or never get there so I split my fund into smaller amounts start buying after large drop such as we just had and keep adding on red candles ,selling the next time ...
by Bounty

12 March 2017
Forum: Gold Coins
Topic: Where's gold going?
Replies: 2
Views: 290
Fiat currency's will collapse and they can't have that they can't have people piling into gold or silver which is real money by the way it always has been for thousands of years but the Ponzi scheme keeps going to a continuing and they can't let it fail it can't feel because then they're great lifes...
by Bounty

12 March 2017
Forum: Gold Council
Replies: 2
Views: 221
Is it smarter to buy a bar of maybe a ounce and have someone make chains from it? and also if the bar is 24k if i needed 14k chains made would i get more bang for my buck because other metals are used to make the 14k chain
by Bounty

12 March 2017
Forum: Markets, Economy
Replies: 1
Views: 178
I view gold and silver as insurance, not as commodities to trade. Insofar as China has already introduced a gold backed yuan and they sit on the board that sets the gold price, my belief is that they try to depress gold prices to enhance their buying opportunities. The prices meet resistance because...
by Bounty

26 February 2017
Forum: Opinion Polls
Replies: 6
Views: 1115
They all suck and have called it all wrong since 2009
by Bounty

26 February 2017
Forum: Metal Detecting
Topic: My old coin find 2004
Replies: 3
Views: 271
Not sure about it but very old. Quick share
by Bounty

26 February 2017
Forum: Cryptocurrency
Replies: 1
Views: 183
1. Dash 2. Bitcoin 3. some currency for smart contracts - Ethereum or Lisk Why Dash nr.1? Most of people just don`t know much about it. Dash dev team is creating a currency, which is oriented for real use. Currently there is just no other cryptocurrencies, which gather all the advantages Dash can o...
by Bounty

12 February 2017
Forum: EzineArticles
Topic: Do You Really Own Your Gold?
Replies: 1
Views: 198
There is a broader risk to gold ownership and that is loss of emotional control. You touched on it when you discussed buying in at the highs and selling below the buy point, which is related to emotion; however, it runs far deeper than that. Gold is a very emotional metal because it tends to attract...
by Bounty

12 February 2017
Forum: Silver Council
Replies: 1
Views: 162
think your 1975-present chart is quite telling. As you see, the correlation between gold and silver prices is there but the 62% shows, I think, that another large factor affects the silver price and I think that is industrial use. As roughly half of all silver use in recent years is for industry, si...
by Bounty

12 February 2017
Forum: Gold Council
Replies: 1
Views: 160
My bet is a decentralized crypto-currency as the new standard. If world currencies start to collapse and gold/silver is not easily transferred then organically people will start to use crypto-currency. +whygoldandsilver please do a video on your research on the possibility of a crypto-currency like ...
---
GOLD & SILVER PRICES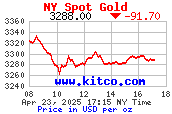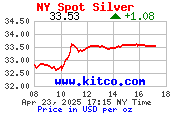 Share & Follow Gold Silver Council
Follow Gold Silver Council