Search found 74 matches
by TonyJ

05 April 2017
Forum: Buy, Sell & Swap
Replies: 10
Views: 1042
I like the security features of the stamped bars (reeded edge, UV stamp, security patterns) and consistency (no air bubbles, solid uniform block of silver, easy to stack) but I like the look and feel of the poured bars.
by TonyJ

05 April 2017
Forum: Opinion Polls
Replies: 4
Views: 285
low budget collectors buy raw coins. their values are too low to submit. Learn how to spot problem coins before purchase. Cheap coins are cheap for a reason(s). attractive problem free raw coins are a distinct minority. Buyer beware by being educated.
by TonyJ

05 April 2017
Forum: Metal Detecting
Replies: 1
Views: 168
There are lots of great public and private relic hunting sites that are open to treasure hunting. Always remember to be sure to check the current local and national laws as they relate to the area that you are considering hunting. When hunting on private property, you must obtain permission from th...
by TonyJ

05 April 2017
Forum: Silver Council
Topic: Should I Buy Silver Or Gold?
Replies: 3
Views: 231
I buy one piece of fractional gold every month, because that is my goal and because that is all I can afford. After which I get silver for the remaining amounts left in my budget for metals. Should I reduce my budget for metals savings for the month, then I will just buy gold. And should I not have ...
by TonyJ

05 April 2017
Forum: Gold Council
Topic: Elements: Gold
Replies: 3
Views: 238
There is no wealth going to be taken away because all these paper assets are fake wealth, an illusion of wealth. The factories will still be here, people just need to go back to work and trade with real money, gold and silver.
by TonyJ

28 March 2017
Forum: Cryptocurrency
Topic: Tested: We I Buy a Bitcoin!
Replies: 2
Views: 273
I have been watching the numbers and the time periods in which Bitcoin is being sold, over the last 10 days. It appears to me that the push to buy Bitcoin is coming from China. I believe that as the Yuan continues to be troubled, Bitcoin continues to rise.
by TonyJ

28 March 2017
Forum: Markets, Economy
Replies: 2
Views: 213
Government is essential to a functioning market but it can go too far in certain aspects. However, mostly the US government doesn't go far enough like allowing Captive markets like cable and satellite companies where there is a choice between getting substandard service at a high market rate or bein...
by TonyJ

28 March 2017
Forum: Gold Coins
Replies: 4
Views: 339
They are a good solution but i have moved onto empty monster boxes now as my stack grows. The problem is the corners are rounded and i find the monster boxes pretty good and most perth mint proofs fit perfectly in it standing up.
by TonyJ

28 March 2017
Forum: Gold Council
Replies: 3
Views: 330
Buyer if you're holding onto it for investment and keep sakes purposes then yes. Most people just stash them away. I like to wear my gold though lol. Most dealers and buyers can look at a bar right away and know it's real. So be careful with fake gold.
by TonyJ

15 March 2017
Forum: Cryptocurrency
Replies: 3
Views: 337
Central Banks are quickly attempting to force populations into cashless societies. What would Bitcoin and other crypto currencies create? Oh that would be a cashless society. Can anyone say controlled opposition.
---
GOLD & SILVER PRICES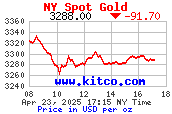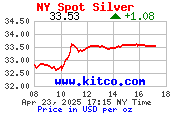 Share & Follow Gold Silver Council
Follow Gold Silver Council