Search found 21 matches
11 November 2016
Forum: Silver Council
Replies: 11
Views: 1145
In my honest opinion there is no one answer to this question that is right for every stacker, investor, collector, prepper....etc. I believe the key points to consider when deciding whether to get involved in Precious Metals and if so, in which form are as follows: 1) Amount (in dollars) one has to ...
11 November 2016
Forum: Gold Council
Replies: 12
Views: 1257
The United States Fed don't know what they're doing? I think this is all by design! It's a controlled demolition of their economy, in order to hide the source and pave the way for a new, controllable monetary system (cashless, of course). The next war will just transfer the final dregs of wealth fr...
10 August 2016
Forum: Gold Council
Replies: 4
Views: 651
http://www.bloomberg.com/news/videos/2016-08-01/perth-mint-ceo-gold-demand-is-holding-up-well WITH THANKS TO BLOOMBERG In my opinion the paper derivative market, these "trusts," GLD and SLV, exist only to "set" the price in the physical market-therefore making these finite asset...
07 August 2016
Forum: Opinion Polls
Replies: 5
Views: 728
I see Silver Prices around the USD $27.50 oz. mark within the next 6 months & as high as USD $30 oz. within the next 12 months.
06 August 2016
Forum: Silver Council
Replies: 7
Views: 811
Scottsdale has finally entirely jumped on the "Hand Poured Bullion" bandwagon. My only issue is that (not being a huge Scottsdale fan) I have a few of the 100g (supposedly) Cast Ingotsand strangely, they all have the same "dent" on the right hand side about half way up (near the ...
03 August 2016
Forum: Coin Gallery
Replies: 2
Views: 381
I'm also a big fan of the Perth Mint's: 2016 Chinese Ancient Mythical Creatures 2oz Silver Antiqued High Relief Coin. With a limited mintage of just 1,500 Coins Worldwide , along with the drawcard of being a 2oz, "Antiqued" High Relief "Proof" (factors which have seen the God's o...
02 August 2016
Forum: Gold Council
Replies: 4
Views: 651
02 August 2016
Forum: Gold Council
Replies: 12
Views: 1257
I'm the first person to stand up and say that what is being done to the economy, allegedly on our behalves or at least with our best interests at heart is in fact the very thing that is screwing us and again, how more people can't see these glaring facts is beyond me!
02 August 2016
Forum: Buy, Sell & Swap
Replies: 8
Views: 946
The one thing that turned me off the 10oz & 1kg was that they've used the same sized logo stamp and serial/fineness stamps on all of the different sized bars, from 2oz through to the 1kg. It just seems like a wasted opportunity at providing a true premium product. I think the stamp is perfectly ...
28 July 2016
Forum: Gold Council
Replies: 12
Views: 1257
I'm very well versed in the intricacies of "Reserve Banks" & their integral roll in creating the utter economic bedlam in which the world now finds itself so while it is indeed fact that the US Fed is a private entity separate entirely from the government, I do not place all of the bla...
---
GOLD & SILVER PRICES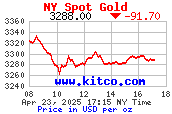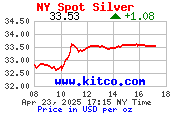 Share & Follow Gold Silver Council
Follow Gold Silver Council