Search found 38 matches
by SilverSnake

09 May 2017
Forum: Opinion Polls
Replies: 4
Views: 284
I have some coins to send in to grade, nobody as far as dealers don't want to send it in for me. How would I go about to send you the coins and payment for them to get graded? Thank you for your time and help.
by SilverSnake

09 May 2017
Forum: Cryptocurrency
Topic: What's Your View on Bitcoin?
Replies: 2
Views: 329
bitcoin is obviously not "real money" like gold and silver, so it must be "fiat money" like paper bills or credit card. if so, some authority has to back it up with guarantees eventually. otherwise it can become worthless at any point. real money does not need authority to back i...
by SilverSnake

09 May 2017
Forum: Gold Coins
Replies: 3
Views: 256
I am more comfortable making 1/4 oz gold purchases. The price is right in my sweet spot. Also your pool of buyers is a lot bigger than compared to getting a full ounce. I like fractionals for these reasons 1) You get back premiums you pay when it comes time to sell, 2) They are easier to sell in mul...
by SilverSnake

11 April 2017
Forum: Gold Council
Replies: 5
Views: 511
As someone who use to trade Gold everyday for 9 months and studied it diligently. Let me warn you that Gold always drops in price during financial disasters in the U.S. If you look at the price of Gold during the great depression you will see prices of Gold lower or stay the same in value. On top of...
by SilverSnake

11 April 2017
Forum: Silver Coins
Topic: Why grade your coins?
Replies: 2
Views: 190
Am I wrong but I seem to lean to pgcs with price info by grade and you mentioned you join as gold member, I see you get 8 free grades for 100 more as platinum member with that free number of grades seems best deal? So 8 grades for like 8!grades expensive but seems best per coin cost
by SilverSnake

11 April 2017
Forum: Cryptocurrency
Replies: 3
Views: 337
How is Bitcoin Unlimited cash when it's controlled by a centralized mining chinese cartel? When will low IQ big blockers understand that in order to compete against mainstream centralized payments, the blocks would need to be so big that the network becomes centralized (hence you can't call that tra...
by SilverSnake

11 April 2017
Forum: Silver Council
Replies: 2
Views: 183
Hello Tom, Ask around you can find a good coin shop in a reasonably close area and you might even save on shipping, etc. The more you deal with a coin dealer the better the deals you will get. That's just my tip anyway. It's not always easy to find good coin shops. And please don't go buying at a pa...
by SilverSnake

01 April 2017
Forum: Metal Detecting
Topic: Gems Galore
Replies: 4
Views: 324
Hi all would like to ask if anyone has a hobby or collections, they would like to share with us at Gems Galore, check us out https://plus.google.com/communities/117234147627282232753 Hello :D i would love if you would make a gemstones for beginners video. i love them but i just don't know much abou...
by SilverSnake

01 April 2017
Forum: Silver Coins
Topic: Junk Silver Investing
Replies: 2
Views: 200
if there was a collapse and we needed to use our silver for trade you will then find out that 98% of the people out there will not recognize this 90% that you show. The junk silver I recommend is Roosevelt dimes and Washington quarters because it is what everyone already knows and its easy to tell ...
by SilverSnake

01 April 2017
Forum: Silver Council
Topic: Should I Buy Silver Or Gold?
Replies: 3
Views: 230
The Fed and the banks are going to keep this game going for long time but eventually it will end, so be prepared hold on to silver and gold for a very long time. So slowly build up you supply of gold silver and crypto coins. I am not a big fan of silver simply coz it is really hard to sell, unless...
---
GOLD & SILVER PRICES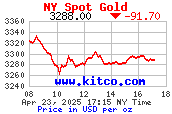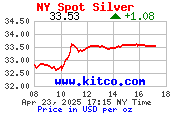 Share & Follow Gold Silver Council
Follow Gold Silver Council