---
Administration

Posts: 1012
Joined: 08 June 2016
Country: Australia
Gold Silver Council asks:

"Is there Price Manipulation within Precious Metals?"

Thanks for providing your vote within this poll.......


---
Rank 3

Posts: 28
Joined: 16 August 2016
Country: USA
When I try to explain silver manipulation to people I usually say "There are about 20 times the number of digital currency units in existence, than there are physical paper notes. Which means that if all the digital currency was to evaporate, we would have a 95% deflation, and paper currency would have its purchasing power increased by 2000%. The same is true for silver, there are perhaps 100 times more digital/paper silver than there is physical".

Is this accurate, or incorrect?
---
The FED has to be in on the con. I have been watching this for several years and what's most obvious is that the FED has to be giving the orders to the banks. In other words our financial system and government are corrupt beyond belief.
---
---
Who is online
Users browsing this forum: No registered users and 1 guest
GOLD & SILVER PRICES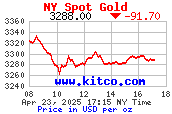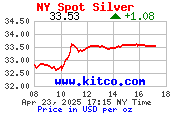 Share & Follow Gold Silver Council
Follow Gold Silver Council