---
Administration

Posts: 1011
Joined: 08 June 2016
Country: Australia
Contact:
Gold Silver Council asks:

Silver Price within the next 6 months $USD per Ounce?

Thanks for providing your vote within this poll.......


---
Rank 5

Posts: 68
Joined: 23 June 2016
Country: United States
For me it's going to be hard to hold on to silver near $50, after the last smash ,but that's exactly how they want us to feel. It's going to take balls of steel to ride this bull market. In its most basic form, the fiat dollar is little more than an instrument of deceit It is one of the most insidious mechanisms that enables this government to stealthily rob its citizenry. Silver bull market has just started.
---
Rank 3

Posts: 21
Joined: 22 July 2016
Country: Australia
I see Silver Prices around the USD $27.50 oz. mark within the next 6 months & as high as USD $30 oz. within the next 12 months.
As my grandfather always told me:

...."Son, there's never a bad time to be in the physical Precious Metals Market....NEVER!"...
---
Rank 3

Posts: 20
Joined: 04 August 2016
Country: Mexico
I see a false 'pump-up' of the market and a huge 'black swan' to blame global collapse on. We will declare war. There will be civil war in US. Things will be so scary, many will die of a heart attack from fear of what's coming. This will not end well.
---
How can such a manipulated product be traded by viewing a chart or considering it to be cyclical. IMO the cycle in play here is the lifecyle of a currency. We little-people want to have something of value when the life-cycle of the dollar is over.
---
Rank 4

Posts: 38
Joined: 06 August 2016
Country: USA
I've been hearing that the dollar is going to collapse for years and years and years. Who the hell really knows!!! There are ALWAYS spikes and dips in the metals. Just watch and buy on the dips and sell on the spikes. Never say never, anything goes. I too thought the metals would spike after a Trump win. Instead, I enjoyed nice purchases on the dips. Just diversify, pay off your debt, have some hard assets, hole up your preps and just friggin' enjoy life. Who knows when it might correct. Actually now, I am holding off buying anything (other than what I have already) for 5-6 weeks. It would be nice if these corporations getting the windfall would reinvest in their businesses (otherwise known as jobs, jobs, jobs) but we will be waiting to see if that comes to pass. Feels like that play "Waiting for Godot" who by the way, never comes!
---
---
Who is online
Users browsing this forum: No registered users and 1 guest
GOLD & SILVER PRICES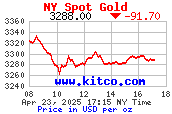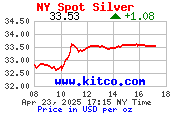 Share & Follow Gold Silver Council
Follow Gold Silver Council